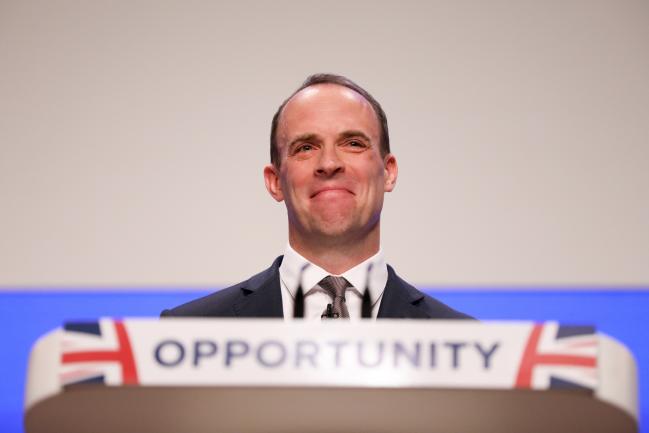 (Bloomberg) — The Conservatives are meeting for day two of their annual conference in Birmingham, with the party divided on Theresa May's blueprint for Brexit. Large parts of it have also been rejected by the European Union and according to a senior British official, the government is preparing to make a significant offer to the bloc to try to unlock negotiations.
U.K. Said to Plan Brexit Border Compromise (1:42 p.m.)
May is preparing to make a significant new Brexit offer to the EU in an attempt to open the door to a deal, a senior British government official told Bloomberg. The offer refers to the so-called Irish backstop, which would take effect in case an overarching trade deal doesn't address the issue of how to avoid the need for police and customs checks on the U.K.-Ireland border after Brexit.
Under the plan, which May is likely to put forward later this month, the U.K. would back down on its opposition to new checks on goods moving between the British mainland and Northern Ireland in the backstop scenario. In exchange, May's team would need the EU to compromise and allow the whole of the U.K. including Northern Ireland to stay in the bloc's customs regime.
The pound rose as much as 0.7 percent to $1.3116, before paring gains.
Hammond Expects Brexit 'Deal Dividend' (12:39 p.m.)
Hammond said he expects a Brexit agreement with the EU to deliver a "deal dividend" that will boost economic growth. He also outlines what the government plans to do with it: "keeping taxes low, supporting public services, reducing the deficit, and investing in Britain's future." Hammond's implication is that without a deal, the government won't be able to achieve those goals.
Just as many ministers have on Monday, Hammond also issues a riposte to the Labour Party and its economic plans. "We know you can't get long-term change on Amazon (NASDAQ:AMZN) Prime," he said. "We will not outbid Corbyn with short-term gimmicks that cause long-term damage."
Tarantula Alert (12:26 p.m.)
Earlier, Chief Secretary to the Treasury Liz Truss joked about her "bad cop" reputation for forcing other members of the Cabinet to find savings in their departments.
"After recently denying a request from one particular secretary of state," she told delegates. "I woke up the next day to find a tarantula in my bed."
It was a jibe at Defence Secretary Gavin Williamson who, when he was in charge of Tory discipline, used to keep his pet tarantula, Cronus, on his desk to frighten colleagues into voting with the government. Williamson has lobbied vocally for more defense spending.
Hammond's moment (12:24 p.m.)
Hammond is asking his party to look beyond their Brexit differences, which threaten to split the party and work together the fight Jeremy Corbyn's Labour Party. He argues technological changes, like the growth of AI and 3D printing will define this period of history and not Brexit, and he calls for the Tory party to adapt and help people deal with these changes.
"Brexit did not happen in a vacuum. It is a product of something deeper and wider. It happened because over the last 20 or so years, as the world has got smaller, a gap has opened up in Britain and in other developed countries between the theory of how a market economy delivers and distributes rising prosperity and the reality experienced by ordinary people,'' he says.
David Davis on why he resigned (12:16 p.m.)
Davis, speaking at a fringe event, went into some details on the circumstances of his resignation as Brexit secretary. He said he didn't want to have a public row when May at her weakest point: "There's a long, bad history in negotiations of different words meaning different things to different sides."
He spoke about long arguments over getting a proper "white paper" out early and that delayed negotiations. On three or four occasions Davis said he tried to rewrite — most recently on customs arrangement — and every attempt was overruled: "The whole negotiation would have been easier if we'd done the sequencing the way i thought and had the battle over the summer. If we'd had the fiercer battle at the beginning it would have been easier."
Grayling Calls on Everyone to Back May (11:20 a.m.)
The transport secretary drew the most applause — tepid still — when he sought to rally the room behind May while simultaneously making a case for him to keep his job: "So no one should doubt my Brexit credentials. We are doing the right thing. And so is our Prime Minister."
Grayling Apologizes Again for Train Delays (11:07 a.m.)
Transport Secretary Chris Grayling has come under a lot of attack for the country's malfunctioning railways. He took responsibility in his speech: "I have already apologized for the disruption caused by the failures in the introduction of the new timetable in May. It was unacceptable. And I want to say now again how sorry I am that so many passengers had such a difficult time."
It's not an insignificant issue for the Conservatives; there's a historic correlation between infrastructure problems and voting, and much of the rail disruption took place in key constituencies in southeast England around London, as well as much of the northwest.
Rees-Mogg Plays Down Leadership Challenge (10:53 a.m.)
Leading Brexiteer Jacob Rees-Mogg just spoke to Bloomberg TV. He said his plan is not to see May replaced — he supports the prime minister, just not her Brexit policy. And though he doesn't expect her to shift her stance this week, he does want her to do so before the next round of talks with the EU. What he's looking for is a Canada-style free-trade agreement with the EU — the same idea that Boris Johnson has been pushing in recent weeks.
"To change plan in the middle of a party conference would be very difficult," he said. "The one thing the prime minister cannot do is make further concessions on the Chequers plan."
Dominic Raab for Leader? (10:44 a.m.)
To hushed silence in the hall, Raab told the story of his own father, who came to Britain as a little boy and grew up knowing "his loved ones had been brutally murdered for no other reason than that they were Jews." To lengthy applause and a standing ovation, he added that this little boy was his father and promised to honor his memory by "fighting the scourge of antisemitism and racism until my last breath."
For those looking beyond May, it would seem Raab has already impressed some.
'Pragmatic not dogmatic' (10:32 a.m.)
Dominic Raab got stuck in with his pitch: "My approach to Brexit is pragmatic, not dogmatic." To applause from the conference hall, the Brexit secretary said that his euroskeptic colleagues should recognize the success of the negotiations so far.
He criticized the European Union for "a starkly one-sided approach to negotiation" and said if the only offer from the EU threatens the integrity of the union "we will be left with no choice but to leave with no deal."
Here are some more highlights: "Our Prime Minister has been constructive and respectful. In return we heard jibes from senior leaders…And we saw a starkly one-sided approach to negotiation. Where the EU's theological approach allows no room for serious compromise."
Last month's EU summit in the Austrian city of Salzburg did not go well. May was greeted with stinging headlines of how EU leaders had slapped down her plan. That forced her into coming the day after to make firm statement that she was sticking to her guns. Raab, above, is addressing the sense that the U.K. was "bullied."
Compassionate Conservatives (10:12 a.m.)
While Brexit tends to suck the air out of the room, a big challenge for Tories is trying to work out their way out of an identity crisis. Labour has many of the more popular policies, focused on ending austerity. So ambitious Tories are making individual pitches, aimed at a life after Theresa May.
This is McVey: "Conference, we are Compassionate Conservatives. We care about the vulnerable in society and how to support them. Yes we look after the money, yes we balance the books to ensure we can support those who need it, when they need it. But we are not a party only interested in numbers."
Remember that it was at the annual conference — back in 2002 — that May made a mark by saying "You know what some people call us: the nasty party."
Line up of speeches coming up (10 a.m.)
Esther McVey, Pensions Secretary at 10 a.m. Former TV presenter and Brexit hardliner
Dominic Raab, Brexit Secretary, around 10:30 a.m. He recently ascended to the job
Chris Grayling, Transport Secretary, around 10:55 a.m. He's had a lot of bad press about the chronic train delays. Bloomberg got the scoop on an announcement he is due to make. Read it here.
Greg Clark, Business Secretary, around 11:20 a.m., He is a close ally to May.
On the fringes:
Nicky Morgan talks the future of U.K. trade at a Chatham House/City of London Corporation event at 12:45 p.m.
Prominent Brexiters Priti Patel and Andrea Jenkyns speak at a 'Brexit Means Brexit' event run by the Bruges Group at 1 p.m.
TheCityUK hosts a discussion on post-Brexit immigration at 2 p.m.
Jacob Rees-Mogg speaks at a 'Leave Means Leave' meeting, joined by JD Wetherspoon founder Tim Martin, at 6:15 p.m.
ConservativeHome poll shows who are the favorites (9:12 a.m.)
A poll of grassroots Tories puts Boris Johnson as the clear leadership favorite, with Home Secretary Sajid Javid in second place. Johnson is due to address a rally at lunchtime on Tuesday and people will be lining up for that from mid-morning.
Pro-EU Tories relegated to the fringes (9:08 a.m.)
A meeting of the Conservative Group for Europe this morning emphasized the extent to which support for EU membership has become a fringe position in the party.
Fewer than a hundred people were in the room to hear lawmakers Nicky Morgan and Antoinette Sandbach set out the prospects for staying close to the EU. Morgan was scathing about the idea there were trade deals ready to sign — "a mirage," she called it — and the attacks on business from her colleagues. But the mood was somber. It's just over three years since the Tories fought an election promising to keep Britain in the EU. Now that's barely even a fringe position in the party.
A Brexiteer Speaks out (9:05 a.m.)
Marcus Fysh, a 48-year-old former investment banker, is a Tory lawmaker and among those who want maximum distance from the EU. We interviewed him on Sunday about where he thought May's Brexit plan was headed.
Chequers, as her plan is known, "is a zombie policy."
"It is certainly the case that the Cabinet has shown itself to be on the wrong path and there is a limited period in that this is a sustainable situation. We need to change to Super Plus mode pretty swiftly." Fysh supports a Canada-style model that Boris Johnson has endorsed forcefully. Read more here.
"It will be clear that she would be unable to command a majority for Chequers. It will be clear within a couple of weeks if the PM is working towards the right sort of deal."
Hammond: Tories Are 'Party of Business' (8:40 a.m.)
Sticking with domestic politics, Hammond used an interview with BBC Radio to talk up the Conservative Party's economic credentials, which have been less obvious amid the divisions over Brexit. He also references the Labour Party leadership, suggesting the Tories are worried about losing votes in this area.
"The Conservative Party has business at its core, and I will say today that we support business, we're the party of business, we always will be the party of business," Hammond said. "There are shortcuts — never mind what Jeremy Corbyn or John McDonnell will tell people — there are no shortcuts, we have to grow this economy."
Grayling Wants Utilities to Pay for Potholes (8:10 a.m.)
Transport Secretary Chris Grayling is considering making utility companies pay a deposit every time they need to dig up the roads to fix cables and pipes, according to a person familiar with the matter, to help stop a pothole epidemic in roads up and down Britain. The money would only be returned if they repair the asphalt to a high standard.
It's another example of how the government is trying to show that it has domestic policies and isn't paralyzed by Brexit. The opposition Labour Party is piling on pressure, rolling out a slew of policies at its own conference last week to overhaul the economy if it won power.
Hammond Defends May's Brexit Blueprint (7:56 a.m.)
Hammond has been doing the media rounds this morning, defending May's so-called Chequers plan for Brexit, and standing by his attack on Boris Johnson in a Daily Mail interview published late Sunday.
Hammond told the BBC there's room for further compromise on a Brexit deal with the EU, including on customs arrangements — but that the government's red lines remain in place on ending free movement, taking back control of laws and ending annual payments to the bloc.
He reiterated his view that a no-deal Brexit would be bad for the British economy, but also insisted the country could cope in such a scenario.
Earlier:May Faces Tory Fire Over Brexit as Hammond Attacks Boris JohnsonHammond Wants Help From U.K. Businesses to Boost ApprenticeshipsMay Versus Johnson: The Political Rivalry Shaping Brexit BritainThe Rivals Who Could Depose Theresa May